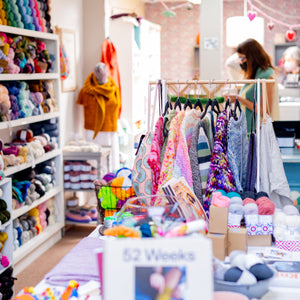 Noma Knits
Noma Knits is a cozy, welcoming yarn shop and knitting studio in the city of Sonoma, California.  In February 2021, after years of teaching knitting to people of all ages, Marie opened the shop to share her love of knitting and all fiber arts and crafts. Her shop carries a variety of interesting yarns from different makers, some right here in Sonoma, with an emphasis on natural materials. Noma Knits has a big variety of tools and accessories for knitters and crocheters. It is a loving space where people of all backgrounds can come to feel welcome, supported, and included. 
Store Hours: Tuesday through Sunday 11:00 to 5:00 
In the News:
https://www.sonomanews.com/article/lifestyle/sonoma-knitters-rejoice/
Subscribe to our newsletter
Promotions, new products and sales. Directly to your inbox.